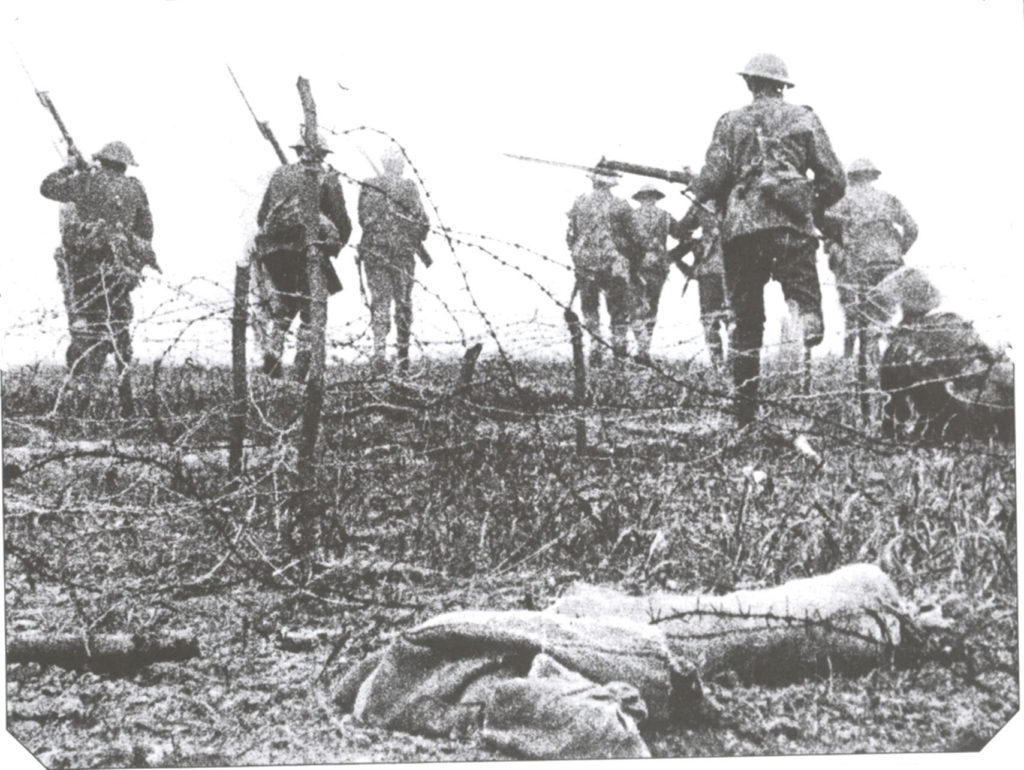 No.3-5544 Pte Donald MacDonald, Cameronians
Born 2. 02. 1897 d 15. 09. 1985
South Lochboisdale
South Uist
Outer Hebrides
Recruitment Sergeant from Cameron Highlanders came to Lochboisdale.
Left home on 20th Jan 1913 aged 15 years
Arrived at Inverness Barracks 22nd or 23rd Jan 1913
Put in charge of a Sergeant Cranston
Training at the camp at Fort George lasted until June 1913
Approx 5-7th Aug 1914 the "Amphion" was the first ship to be sunk in the war
Sept 1914 Sent to feeding Battalion for First Cameron Highlanders at Invergordon
Nov 1914 Aged 16 years and 7 months he left for Southampton and on to Le Harve, was billeted there for a week. Records being inspected by King George V.
Long route march from Borre, passing weary Bengal Lancers on horseback.
On to village of Givenchy where his first major battle was fought and won
Wounded for first time and taken to Rouen hospital then on to Craig Leith Stirling
Cameron Highlanders went from 1,000 to 123 at Givenchy, The Bengal Lancers were almost wiped out as they were on horseback
Home to recover in Spring 1915
His young age was discovered and was therefore sent on Garrison duty at Inverness until he was 18 then back to the front
July 1916 forced marched to Somme, about 30 of the Brigade died en route from sheer exhaustion
On Albert front for a long spell, mentions Village of Constellmaison
Wounded for 2nd time at the Somme 20th Aug 1916
In hospital in Rouen for 2 weeks then hospital ship to Folkstone and to Scotland on Red Cross train. Ended up in Perth in a poor house which was converted to a military hospital
Strathallan Castle to recover, castle had been taken over by the Red Cross and staffed by VAD nurses. Epidemic broke out in the hospital so he was transferred to Dundee for further treatment
Home for 14 days to recover, hospital to let him know when he would be fit to return to front, this not done. He was arrested for being a deserter from the army.
Spent time in Stirling Castle on guard duty until this was sorted, then spent time at a camp outside Colinton near Edinburgh
Train from Edinburgh to Holyhead then on to Dublin, spent time on guard duty at fort in Kinsale
Home on leave for a short while
Calais via Dublin. Holyhead overland to Southampton arriving on Christmas Day then troop ship to Calais
Re enforced with 7th Argylls, 51st Division with whom he stayed until the end of the war
Battle of Belleau Wood, June 1918.
Battle of Caterpillar Wood during the big freeze.
Time in the Arras area, trenches full of rats
Posted to trench mortar battery, wounded for 3rd time and sent to coastal hospital in France.
Back to 7th Argylls, 51st Division.
Germans attacked village of Lieu-Saint-Amand.
Billeted in small village outside Cambrai when war ended on 11th November 1918.
Attended classes for 2 weeks then sent home on leave.
After leave, rejoined battalion in France for a further 2 weeks.
Had medical examination, awarded a pension of 8 shillings a week and collected his discharge papers before returning home.
---
The Highland Regiments (M. T. MacGregor)
I.
Swinging they come from the land of the heather;
Warrior blood in their veins runs strong;
Shoulder to shoulder, marching together,
Bearers of names long renowned in song.
See! The Clans gather! dauntless, unfearing,
See how they gather from mountain and moor,
Leaving the ties most tender, endearing,
See how they gather, the rich and the poor.
II.
Like the war-horse when he scents the far battle,
Heads are uplifted and shoulders swing free;
First in the din and the roar and the rattle,
Sons of the Hill-land engirt by the sea.
See! they are coming! Tartans are swinging;
Sound of the war-pipe is shrill on the air;
Warrior-songs in their brave hearts are ringing;
They are the lads who will do and will dare.
III.
Lonely the sheiling; o'er the red embers
Of the peat-fire crouch those who are left:
Old man and woman; lo, each remembers
Lads who have left them all lonely, bereft.
Yet they have given them, wife and the mother,
Father and grandsire, the youth and the maid;
Could they have borne that the Islesman, son, brother,
Sons of brave Clans from their duty had stayed?
IV.
Leaving the lochs, the hills, and the mountains,
Leaving the old men the harvests to reap;
Where antlered deer slake their thirst at the fountains,
For the Red Harvest to face the White Sleep.
Brave is the Celt, and his country in danger,
Freedom and Liberty call to him still;
Send round the Fiery Cross! To fear a stranger,
Celts come from the islet, the moor, and the hill.